SIOPAO, siomai, and congee (lugaw / arroz caldo for Pinoys) are just a few of the favorite Filipino dishes that are considered standard dim sum dishes.
These tasty Cantonese dishes have truly come a long way from the tea rooms in the port city of Guangzhou, China, the birthplace of Cantonese cuisine, to the Chinese pansiterias of the Philippines in the 19th century.
Presumably the early Chinese traders, naturally hungry for food from mother China, cooked Chinese dishes in their Filipino homes.
And yes, since they had to use locally available ingredients, changes have occurred in their dishes. Adaptation and indigenization affected Chinese dishes in the various cities and regions of the Philippines where the Chinos and Sangleys settled and shared their culinary culture with native Filipinos and colonial rulers. Obviously, one of the major Chinese influences in Filipino culture was the culinary arts.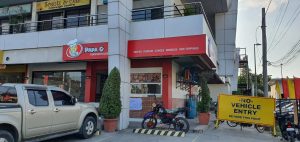 Dim sum is a style of Chinese cuisine that comes in small portions of various dishes. The salty or sweet foods that make up dim sum were originally created to complement the tradition of Chinese tea drinking. These dim sum foods are often served on small plates or in bamboo steamer baskets, just as they were served centuries ago in Guangzhou teahouses. Dim sum is typically presented and eaten in a family style, with small portions shared by diners who can try a variety of dishes.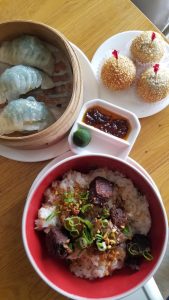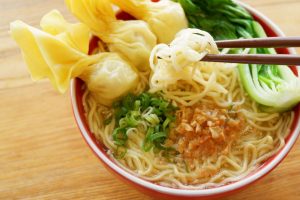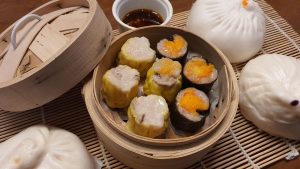 Dim sum literally translates to "touching hearts". Wherever the Chinese have migrated all over the world, they have brought with them their teahouse culture and thus, dim sum can be found in many forms all over the world where Chinatowns exist. This includes Binondo Chinatown in the Philippines, reputed to be the oldest Chinatown in the world established in 1594.
Take note that Davao is renowned for having the largest Chinatown by land area in the country, and the only one established in the Mindanao region. Chinese restaurants that offer dim sum often serve ready-to-eat meals from carts that are pushed into Chinese restaurants for diners seated at tables of their choice.
Davao's Papa G Dim Sum house courageously and confidently opened its doors to Davao foodies in June 2020, despite the Covid pandemic which saw the closure of so many catering establishments. "Our family has been in the food business for almost 20 years now.
But Papa G (named after governor Papa Arturo "Chiongkee" Uy) is our first venture into a dim sum business. My dad is a passionate foodie. And Papa G Dim Sum first started out as his "quarantine project". He began concocting Hong Kong-inspired dim sum dishes, expertly assisted by a Chinese chef hired from Binondo, in our kitchen at our Nova Tierra Village residence.
Its first products were pork and shrimp siomai as well as siopao. We started selling their siomai and siopao frozen creations in June of last year. It was well received by our friendly bosses who encouraged Dad to add more dim sum products to his list until he finally decided it was time to open a dim sum house, "Jamaica said. Tan, who manages Papa G. Jam is a BS Entrepreneurship Degree in Commerce from Ateneo University in Davao.
As dim sum is primarily Cantonese cuisine, Papa G's dim sum delicacies are heavily influenced by those of Hong Kong Cantonese dim sum which is favored by Papa Gov. Chiongking. Like any traditional dim sum house, Papa G offers such culinary delights, namely dumplings, steamed buns, noodles, congee, and rice toppings.
"Our specialties include pork bola-bola pao with salted eggs, Hong Kong-style pork asado pao, xiao long bao, Cantonese special pork and shrimp siomai, fried shrimp dumplings and kuchay dumplings. You must also try our Egg of the Century congee and wonton noodle soup.
If you are really hungry, our rice fillings like beef brisket, chicken and mushrooms, tausi ribs and chicken feet are sure to satisfy you. We serve quality produce and make sure our dim sum food tastes as good as that served in dim sum houses in Hong Kong, "Jam guaranteed with a broad smile that made his piercing eyes disappear into slits.
"We were fortunate to get good and encouraging support from diners who tried our dim sum. We're having tough days, but our loyal customers keep coming back to Papa G, so they're the ones who keep us going. We're happy to somehow earn to keep our employees working for us, and the necessary restaurant business dues that we have to pay. We are waiting and praying for better days to come when this pandemic is over, "Jam said as we say goodbye to each other.
Please support our own businesses. Papa G Dim Sum House is located in Nova Tierra Square in Brgy. Vicente Hizon, Sr., City of Davao; while he has the Papa G Take Out Counter at the ATU Plaza, Gov. Duterte St., in downtown Davao.
Source link