For nearly a decade, PARKROYAL on Pickering has been the last word in the eco-chic hotel in Singapore, with its iconic facade draped in vertical greenery. Now, however, there is a freshly bloomed hotel-in-a-garden in town – its sibling concept. Parkroyal Collection Marina Bay, launched in December of last year.
Formerly known as Marina Mandarin, the hotel is reborn after nine months of redesign by Pan Pacific Hotels Group. And while not much has changed from its blocky exterior, don't judge a hotel by its facade – inside lies a bold new world of green design.
Location & space
Originally designed by neo-futurist architect John Portman – also the mastermind behind Mandarin Oriental and Regent Singapore – the hotel carries all the hallmarks of its spectacular style. The interior is a cavernous and echoing space, anchored by an atrium lounge.
Around its perimeter, tiers of rooms rise at a dizzying pace like a pyramid, crowned with a dazzling skylight. Much of this original structure has been preserved, but inundated with a sea of ​​greenery – 2,400 houseplants, to be exact.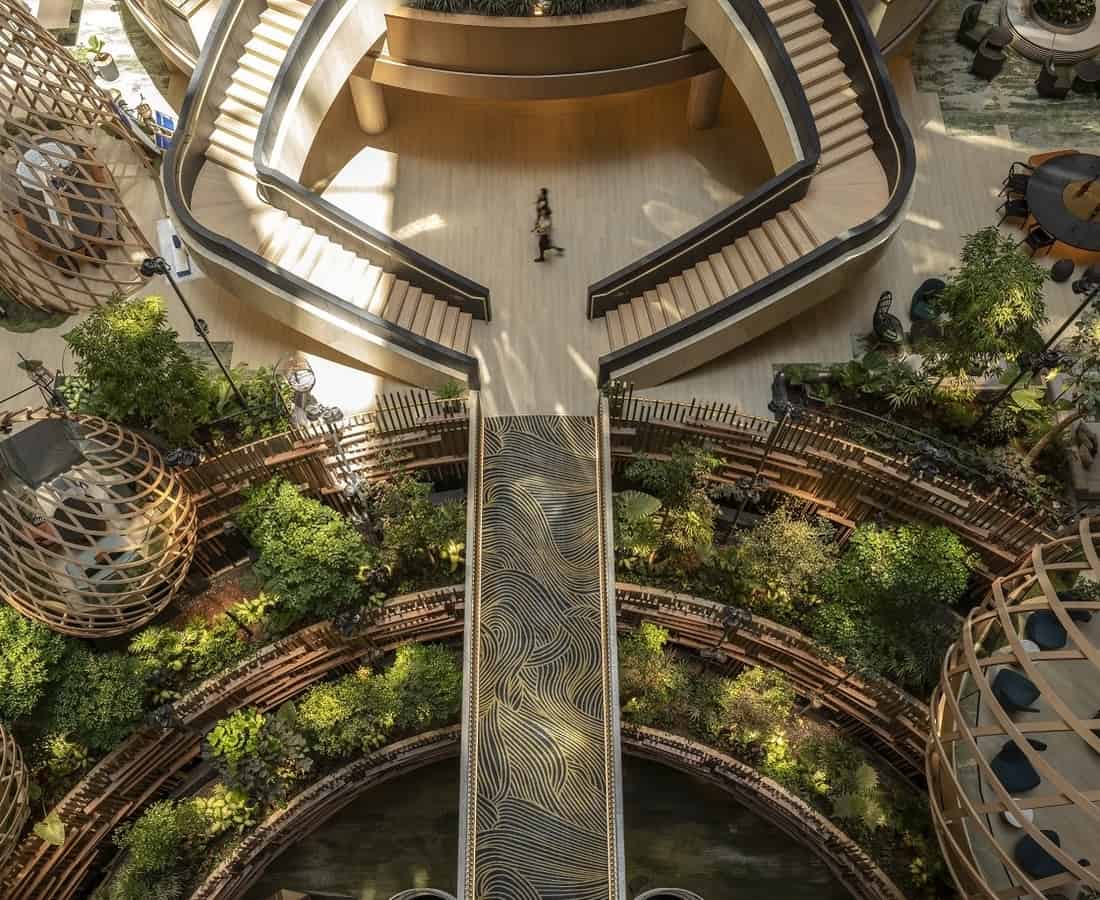 The first thing that greets you is a 13-meter-high green wall in front of the entrance – an abstract interpretation of Chinese landscape painting overhung by a shower of metal "raindrops". To reach the fourth level atrium, board the bubble elevator and stroll over the Sky Bridge.
This indoor riff on a walk in the trees offers a bird's eye view of the 370 square meters of greenery of the atrium; from here, the sights and sounds of the forest envelop you.
Tropical plants, from elephant ears to ruffled ferns, cover the space and fill it with noticeably cool air. Live songbirds chirp from cages; in pavilions woven to resemble bird nests, guests munch on afternoon tea and drinks.
While it's hard to feel at home in most glitzy hotel atriums, this one is inviting enough to linger. Pale wood floors and mossy rugs add to the calming palette, with soft light coming from the UV-treated skylight.
From above is a preserved sculpture of Marina Mandarin – Orchidea by Richard Lippold, which features a cascade of brilliant circles on a centerpiece of petal-shaped curves.
(The Parkroyal team comes up with a more cheeky take on us: a boon of coins to a cupped hand, signifying hotel prosperity.) Whether it's flora or fengshui, it's pretty gorgeous in the light. of the atrium night light show.
Rooms
Compared to the atrium spectacle, the hotel's 583 monochrome rooms seem a bit bland in comparison.
Much of the old layout has also been preserved here, although the old carpet has been replaced with light wood floors to improve air quality. All bedrooms enjoy airy skyline views from your private balcony – albeit cramped and unsheltered – as well as Chromecast-enabled TVs.
With a comfortable area of ​​33 square meters, our Collection room ($ 351 ++ per night) is about the same size as a basic urban room ($ 260 ++). What you get for the higher price is dizzying scenery – and there's no denying that it's stunning from our 21st floor room.
You also get a range of Collection Club perks, including access to the Collection Club Lounge for a free buffet breakfast, afternoon tea, and evening cocktails – we've heard that they also cook a barbecue dinner on Saturdays.
The bedroom is a minimalist affair of pale black wood, well stocked with TWG tea and a Nespresso machine. An antique trinket box reveals drawers of welcome kueh, placed next to another charming old-fashioned touch: a pristine copy of today's Straits Times.
However, instead of the usual bottled water, you will find a more environmentally friendly water filter faucet in the bathroom. Métis bath products and bath salts promise a luxurious tub experience, although hygiene leaves something to be desired – we noticed dried stains along the rim of the glasses near the sink, as well as on the toiletry rack. toilet in the shower (a bit cramped).
Facilities and services
The fifth floor is the hotel's wellness center, home to Pan Pacific's signature spa – the St. Gregory Spa – with spin and yoga studios tucked inside.
Located next to the spa, the outdoor pool is filled with skin-nourishing mineral water and comes alive at night with over a thousand fiber-optic lights. Nearby, a smooth lawn with carpet grass occasionally hosts outdoor yoga sessions.
ALSO READ: Looking for an escape suite? 4 stays in Singapore for less than $ 200
Food and drinks
The Skyline Bar sits next to the pool, but for top-notch drinks you'll want to head to the Atrium Lounge instead. By day, this garden retreat serves afternoon tea packed in picnic baskets; As night falls, chief mixologist Michael Mendoza shakes things up with a wildly inventive cocktail program.
Its Kingdom Plantae range pays homage to the parts of a plant, drawing inspiration from the herbs from the hotel's own urban farm. Stem ($ 22) weaves tequila and asparagus aquafaba into a creamy and surprisingly delicious riff over pesto pasta; Roots ($ 22), meanwhile, is a perfectly balanced potion of 12-year-old Balvenie, beet honey shrub and truffle oil. He even shares that he is currently experimenting with aging in Negronis barrels using a very unusual wood – bamboo.
Along with a few independently run restaurants, the hotel offers two on-site options: an all-day Peppermint restaurant and the Cantonese Peach Blossoms restaurant.
Peppermint makes farm-to-table meals as an a la carte buffet, drawing inspiration from vegetables from the edible garden just outside – we recommend taking a stroll looking at their many plots, from spinach to apple mint.
The breakfast queue here gets long around 9 a.m., so if you've got Club Collection perks, skip the lines and head to the Club Lounge by the pool instead.
For lunch, the Peach Blossoms offers panoramic views of the Marina Bay skyline with a clever array of dimsum.
Signatures include the fried Japanese "lava" sweet potato ($ 7.80 for three) – a potato-shaped puff with melted innards buried in the "earth" of Oreo crumbs – and dumplings of au-soup. Steamed pork ($ 8.80 for three) with incredibly thin skins and a slice of Iberian ham on top.
ALSO READ: Thai Inspired Retreat in the East: Review of Dusit Thani Laguna Singapore Stay
This article first appeared in Nomads of the city.
Source link